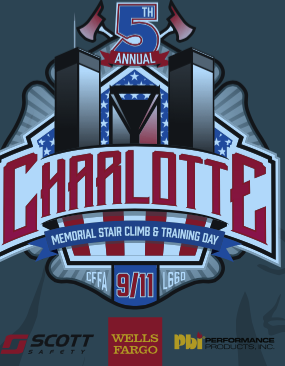 September 12, 2015 will be the date of the 2015 climb. It will be held at the Duke Energy Center again.
Charlotte, North Carolina
Check back May 1 for Registration information.
Also, we will be having our training day again on September 11, 2015
The Charlotte Fire Fighters' Association is proud and humbled to host a 9/11 Memorial Stair Climb to honor those that gave all on the morning of September 11, 2001, their families and to benefit the National Fallen Firefighters Foundation.
The Charlotte Fire Fighters 9-11 Memorial Stair Climb will take place on Saturday, September 7,2013 at the Duke Energy Center Building in Uptown Charlotte, North Carolina. Participants of the climb will consist of 343 firefighters, 60 law enforcement personnel and 10 EMS personnel. Additional spots will be opened this year to accomadate additional climbers to total 700 climbers in all. The makeup and numbers of climbers are selected to represent the first responders lost during the 9-11-01 terrorist attacks. Public safety participants will climb a total of 110 floors, the number equal to the height of each Twin Tower.
---
THANK YOU TO EVERYONE THAT SUPPORTED THIS CLIMB in 2014 AND WHO WILL BE CLIMBING IN 2015!! WE WILL NEVER FORGET!!
Watch the following videos from the NFFF:
---
Team Listing
Here are the preliminary team listings for the climb.  Please contact christiehorn@yahoo.com with any change requests. Countdown is starting.
Download:

09.08.2015 -Alpha.xlsx
Training Day
We have worked on and secured a solid lineup of educational sessions for our second annual training day.  The proceeds will once again benefit the NFFF.   REGISTER AND FIND INFORMATION HERE: https://www.firehero.org/event/charlotte-training-2015/

9-11 Stair Climb Mission Statement
We climb to ensure that the fallen firefighters of September 11 are never forgotten; we complete their journey through dedication, training, and physical fitness.

Page Last Updated: Sep 08, 2015 (16:18:00)